UKDN Waterflow's plans to build for the future continues as further changes are made to its top team, appointing Kevin Mouatt as Chief Operating Officer and George Shannon as Chief Financial Officer.
Kevin Mouatt, UKDN Waterflow's Chief Operating Officer, is a fellow member of the Institute of Directors and has been a Chartered Director since 1999. Kevin has been until recently the Group Managing Director of the D+R group Plc, where he steered the company back into profitability, building a team ethos over a four year period that delivered vision, inspiration and momentum. Prior to this Kevin was executive Managing Director of Harsco Infrastructure for 12 years.
With an enviable record in the construction industry Kevin has been at the forefront of building operational excellence in regulated environments, ensuring that health and safety sits at the heart of the company.
Kevin has held various senior director, managing director and non–executive roles with companies, trade associations and governing bodies, and was a founder member of the CBI Construction Council and UK Contractors Group (UKCG) where he was a Director for four years, in addition to these roles, Kevin served on the Board of Construction Skills Certification Scheme, (CSCS) driving competence in the build environment.
His remit at UKDN Waterflow will include field operations across the entire company, HSQE and Logistics. Kevin said "I am pleased to be part of UKDN Waterflow's management team, working together with the people in the business to shape team ethos and build operational quality throughout the company."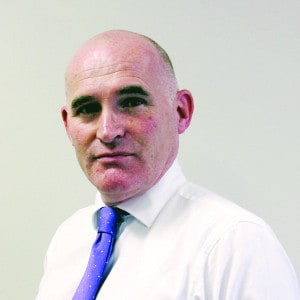 George Shannon, Chief Financial Officer for the UKDN Waterflow group is a graduate engineer and chartered accountant. Having spent most of the last twenty five years working in senior finance roles for a variety of industrial businesses and groups including Vickers, Alstom Transport and Cosworth Engineering. He has run a range of different sized businesses in public and private groups with experience of successfully funding and growing engineering, manufacturing and service businesses in various sectors such as automotive, defence, rail, and general industrial.
For the last 10 years, George has held a senior position as Group Finance Director of the privately owned Wellman engineering group, based in the Midlands, and says "I am delighted to have now joined the executive team at UKDN Waterflow; I am looking forward to working with the company, the top team and its people, helping improve the reporting and controls infrastructure and realising the exciting growth potential within the group."
Steve Shine, Chairman of UKDN Waterflow commented: "We are delighted to announce the appointment of Kevin and George ; they are valuable additions to the UKDN Waterflow top team. The board and I look forward to working closely with them and drawing on their experience and expertise in driving UKDN Waterflow to its next stage of growth."
Kevin Mouatt and George Shannon will be joining Nick Harris to help build the business and enhance its service deliveries, taking the group to new markets and greater heights.
UKDN Waterflow is backed by private equity company Lyceum Capital.