A soakaway is a hole dug into the ground that is filled with coarse stone and rubble or plastic crates. It allows water to filter through it, and literally soak into the ground (away).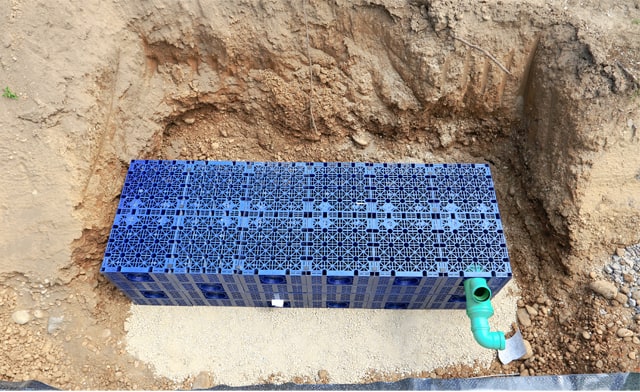 Soakaways are used to manage surface water at its source, and serve as an alternative option to draining off surface water via a stream or sewer system. A highly effective way of dealing with surface water; soakaways collect all surface water run-off into one point before allowing it to percolate in a controlled manner into the surrounding ground/earth in the area where it falls.
Why are Soakaways used?
Keeping the ground moist and creating a stable water source for gardens are two key examples of why a soakaway might be used. Crucially, though, they allow levels of surface water to be controlled. This prevents flooding during heavy rainfall; dealing with excess water in situations where the volume of water is too high for surface water drainage systems to cope with. Consequently, soakaways have both commercial and domestic applications.
Domestic soakaways are often located in the rear garden around the perimeter of a property. If you're wondering 'how can I tell if I have a soakaway?', simply follow the rainwater pipes down from the side of your house into your garden. If they lead to a slightly lowered area where your lawn dips, there's a chance you have a soakaway installed. Some modern soakaways are created using 'soakaway crates' that allow the water to filter through in exactly the same manner.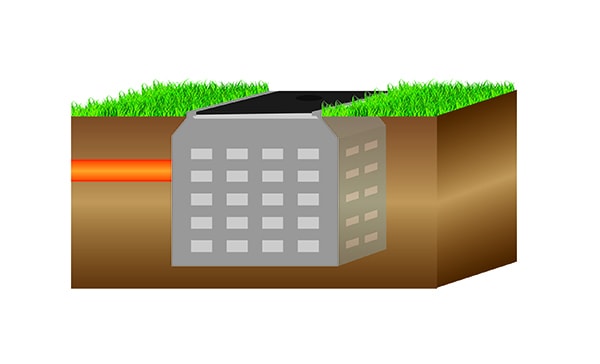 A 3D illustration of a soakaway.
Another structure associated with soakaways is a French Drain. Constructed in a similar way; with a dug out trench filled with gravel-like material, a French drain contains a pipe that drains off surface water. These often connect to soakaways, and can be built closer to properties – typically one foot away from a property for each foot of depth they cover.
How can I maintain a Soakaway?
It is important that the vegetation around a soakaway is maintained so that roots do not penetrate the soakaway when looking for water sources. This diminishes the effectiveness of the soakaway. Consequently, visual inspections of the area should take place annually. If you spot signs of water logging or ponding, they could be indicators that the soakaway is not working properly and may need desilting and cleaning.
If you are unsure of how to clean and desilt a soakaway, please get in touch. It is not advisable to tackle a soakaway constructed using 'soakaway crates' with shovels and picks as these can crack and damage the plastic crates. UKDN Waterflow will often tackle the silt build up around the soakaway using jet-vac equipment that vacuums the silt debris away, leaving the soakaway functioning more effectively.
We recommend fully replacing a soakaway every 10-15 years.
How do you install a Soakaway?
Before attempting to install a soakaway it is advisable to ensure that a percolation test is carried out to ensure that the water can soakaway quickly and effectively. High clay-content soil does not make for a suitable location for a soakaway. Installing a soakaway on unsuitable ground can result in water logging, which can contribute to localised flooding – so it's important to do your homework before attempting to install a soakaway.
As a general rule of thumb, ensure that a soakaway is only ever constructed at least 5m away from any buildings or roads.
Where else are Soakaways used?
One additional domestic appliance of soakaways is the condensate soakaway. Condensing boilers located near an external wall within a property are designed to collect condensing steam created when a boiler heats up. The, now cooler, condensed water then runs off to a soakaway pipe. This prevents the boiler from having to catch and reheat condensation, and is an example of how soakaways can benefit domestic appliances.
Where can Soakaways not be used?
Be careful to check the Environment Agency's General Binding Rules around small sewage discharge to a surface water if you currently use, or are considering the use of, a soakaway in a septic treatment plant. Soakaways are not well-equipped to treat effluent water emerging from a sewage system.
One design that is capable of treating effluent water is a soakaway drainage field, in which liquid waste or sewage is dispersed into a soil field, where it is cleaned (to an extent) by aerobic soil bacteria which occurs naturally in the soil. These drain fields, however, have a limited lifespan. Through prolonged use over time, the soil becomes unable to treat water.
While it can be extended by regular emptying of the septic tank and good maintenance procedures, septic tank soakaway drainage fields inevitably fail to meet Environment Agency rules.
It's also worth noting that all septic tanks whose effluent enters streams or ditches must be replaced with sewage treatment plants by January 1st 2020. More details of the legislation are available here, or you can contact the Environment Agency for further support.