Drain renovation and pipe repair
For partially collapsed, worn out or damaged drains and sewer pipes, UKDN Waterflow's no-dig or trenchless technology is the most efficient and least intrusive solution.
It requires little or no excavation and works equally well for drainage under roads, railways, canals and rivers; residential, commercial or industrial buildings and open spaces.
What does that mean for you?
It is like replacing the pipe, but without all the fuss of excavation. Pipes are repaired by putting a new lining into the existing pipe. Without excavation or fuel-heavy apparatus, this no-dig technology method is a quicker, greener and cleaner solution than traditional dig and replace methods. It is cost-effective too.
Why choose UKDN?
Whatever shape and size the pipe repair project, you can rely on UKDN Waterflow for the best renovation solution. We do full length linings and patch repairs, and we repair sewers and drains from 100 mm diameter up to 4000 mm diameter.
Want to know more UKDN Waterflow's no-dig solutions? Just call us on 0333 344 2937. Or fill in the contact form on this page.
What is no-dig technology?
No-dig or trenchless technology is a way of repairing a pipe by installing a liner inside the damaged structure. The liner is then cured in place so that it creates a new pipe inside the old one. There are three main methods — UV cured GRP relining, ambient cure polyester resin and heat cured thermosetting resin — so we select the most appropriate one for your sewer fix. For very large diameter pipes we may also use other techniques including panel systems, segment panel systems and joint repairs.
How do we do it?
We use pan and tilt cameras and sonde tracing to establish the structural condition of the pipes and locate any damage
We clean the drains and sewers by high pressure jetting to avoid damaged areas being hidden by scale, debris or sludge
Finally, we repair and restore the defective drains or sections of the pipe using our advanced no-dig methods.
In addition to our sewer and drain repair service, we also upsize and install new pipelines using a range of specialist techniques such as auger boring, pipe jacking, pipe bursting, timber headings, microtunnelling, impact moling, shaft sinking and GRP segmental lining.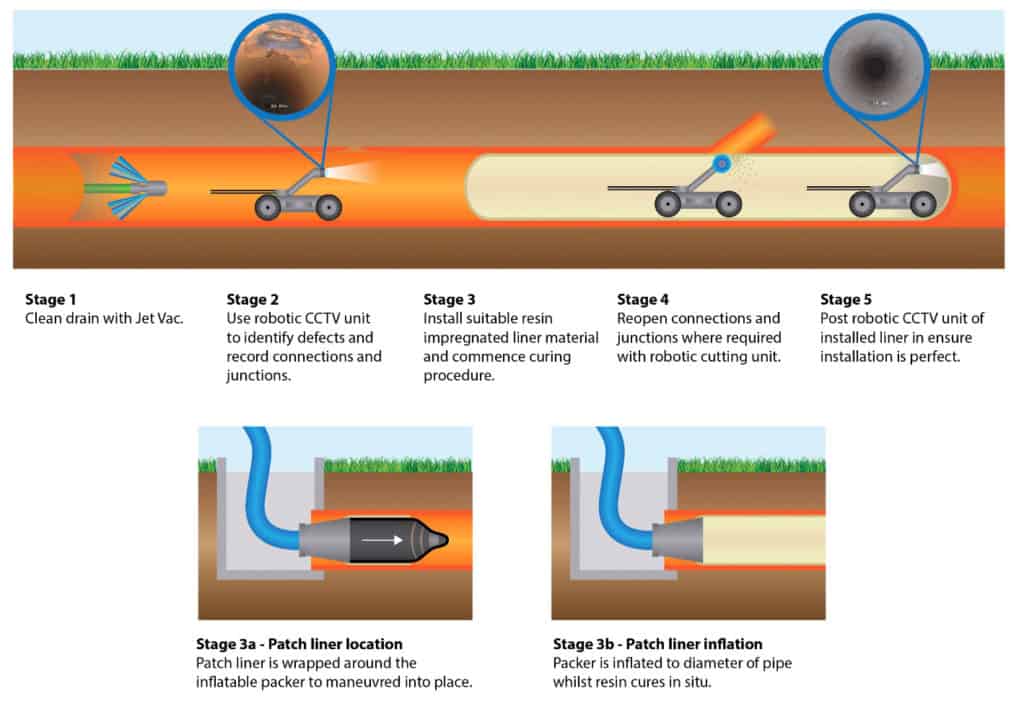 The experts
UKDN Waterflow is one of the UK's leading contractors for the trenchless repair of drains and sewers. We have pioneered new, innovative techniques when others have failed to deliver. That is why so many organisations rely on us for their wastewater infrastructure solutions.
Testimonials
"Had a couple of UKDN Waterflow guys turn up to carry out emergency works to my home, emailing to say how impressive these two guys were, hard work is putting it mild to be honest, they were superb, very polite and considerate and explained everything. They worked really hard all day, cannot fault any of their work, in fact, my friends could not believe where the work had been carried out, it was put back together so well. Excellent employees, credit to the company. Thank you so much for sending such terrific guys."
Mrs Allen
"Just a very quick note to pass on our sincere thanks for all of your efforts in putting right our recent issues with our mains underground drainage pipe. From the first contact right through to the actual completion of the job in hand, all matters were dealt with in a professional yet extremely friendly manner. In horrible conditions what with the weather and magnitude of the task in hand, the team always remained cheerful/friendly and at all times kept us updated as to what was going on and why, something which was really most appreciated along with the fact that the job came in on the quotation price and within the estimated time scales given. We cannot thank you all enough and going forward, it will be our absolute pleasure to recommend you all to both colleagues and friends alike."
4th Bexleyheath Scout Group
Get in touch
We would love to tell you more about our drain renovation service. For advice about the best repair method for your drains and sewers, complete our contact form or call us now on 0333 344 2937
To learn more about relining process, take a look at our step by step guide below: