A new jet vac vehicle, the Scania JHL Flexline 312, has joined the UKDN Waterflow expanding fleet. This will be primarily used for the company's new Severn Trent Services contract, working in partnership with STS on Ministry of Defence properties.
The new jet vac unit will also support ongoing and new industrial and commercial work in the Essex, Suffolk and Norfolk areas as UKDN Waterflow continues to expand its coverage across the UK.
UKDN Waterflow provide water, wastewater, drainage and infrastructure services throughout Britain to commercial & industrial, water & sewerage, rail & infrastructure, and insurance market sectors.
Flexible, innovative design gives robustness to operational needs
The new jet vac unit has a 12m3 tank equipped with a movable partition, which can be locked in three pre-set positions, dividing the tank into two compartments of flexible size. An air-pressurised gasket is fitted in the partition to ensure that sludge is kept separate from water.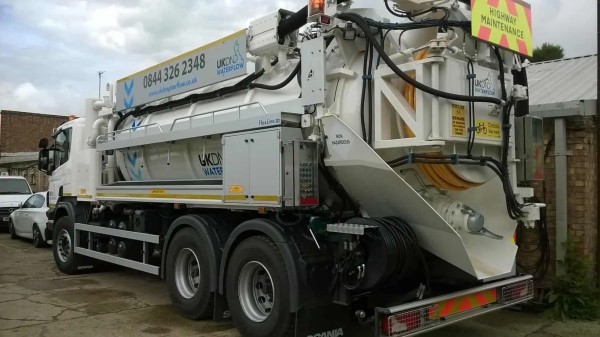 The complete operation of the jet vac unit (vacuum pump, high-pressure pump, position of partition, etc.) is carried out from control panels mounted at the back and side of the tanker, making it easy for an engineer to manoeuvre the unit quickly into place.
The high pressure unit has a capacity of 390 litres per minute and an oil cooled CVS 1600 Vacuum pump unit with a capacity of over 25000 litres per minute.
A cassette system ensures easy operation by UKDN Waterflow's engineers of a 5" hose. This is mounted on top of the jet vac tank with the hose guided by rollers allowing both the jetting hose and the suction hose to be easily positioned above manholes in the sewer system.
The powerful high pressure pump ensures fast efficient cleaning and blockage clearance for even the toughest jobs.
The 5″ suction hose may be lowered 8-10 m below surfaces. The end of the suction hose is fitted with a coupling that allows different equipment such as hose extensions, etc. to be connected to the main hose.
This high volume/flow jet vac capability gives UKDN Waterflow a further best in class vehicle. And because the vehicle sits on a smaller chassis than traditional vehicles it can squeeze into more locations easily, giving clients greater flexibility to use this impressive industry leading vehicle.
Ongoing multi-million pound investment sets

UKDN

Waterflow

aside from competitors
Nick Harris, UKDN Waterflow's CEO, commented "UKDN Waterflow continues to invest in new vehicles and cutting edge technology to give our clients the very best experience when they work in partnership with us. This significant investment in a new jet vac vehicle reinforces our expanding operations, providing greater capacity and flexibility for our clients."
Environmental consideration

built-in

as standard
The new jet vac unit has been specially designed with protection of cyclists in mind with an aluminium Cyclist protection bar fitted on either side of the vehicle and prominent signage.
With a commitment to reduce emissions by 20% the new jet vac vehicle is Euro 6 compliant, with emission's the lowest currently available. Innovatively the same engine that powers the Truck also powers the jet vac equipment.
Overall the choice of this new jet vac vehicle also took into account the noise it would create. UKDN Waterflow's vehicles are available 24/7 and the noise levels within this new Jet vac vehicle are very low, making it ideal for night working in residential areas.
Notes to editor
UKDN

Waterflow

provides water, wastewater, drainage and infrastructure services to four key market areas – Industrial and Commercial, Water and Sewerage, Rail and Major Infrastructure, and Insurance and Household. Operating across Britain

UKDN

Waterflow

is run by an executive team led by Steve Shine OBE (Executive Chairman), Nick Harris (CEO), Kevin

Mouatt

(COO) and George Shannon (CFO)

UKDN

Waterflow's comprehensive portfolio of services covers above ground, below ground and internal asset management services and project work that ranges from household plumbing and drainage repairs for insurance companies, complete asset management programmes for regional and national estate managers, to multi-million pound infrastructure projects for rail, highways and airports.

UKDN

Waterflow

is backed by independent mid-market private equity investor Lyceum Capital, who specialise in buying and building companies that operate in the UK mid-market