Network Rail has awarded UKDN Waterflow (LG) Ltd, part of Lanes Group plc, a three-year contract to provide unmanned aerial vehicle survey and inspection services.
The framework contract, awarded under competitive tender, covers three regions – North, Midlands and South – encompassing the whole of the UK.  UKDN Waterflow (LG) was one of four suppliers to be awarded a place on the new framework.
The use of unmanned aerial vehicles (UAVs), commonly known as drones, for surveying is increasing rapidly. They allow richer data to be gathered more safely, efficiently and quickly with less disruption to asset users.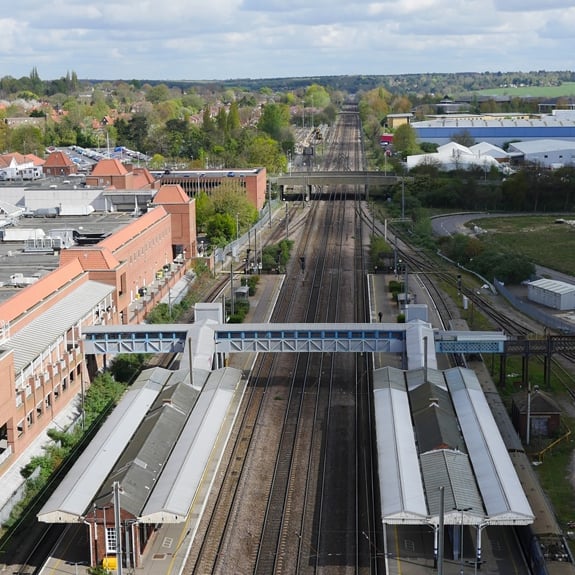 UKDN Waterflow (LG) holds a Principal Contractor's Licence with Network Rail while the Lanes Rail Division has pioneered the development of UAV surveys on behalf of Transport for London.
The contract encompasses inspection and surveying of assets such as structures, bridges and embankments, and overhead line equipment to improve asset knowledge or to provide project specific information.
In addition to planned works, the contract allows for reactive inspections to assess the impact of incidents, including adverse weather conditions.
Richard Leigh, Business Development Director for UKDN Waterflow (LG), said: "We are very pleased to have been selected by Network Rail to help realise the huge potential for UAV use across the UK rail network.
"UAVs represent a more advanced and more accurate method for capturing data that will help improve the control and effectiveness of construction and maintenance programmes.
"The survey process will be less disruptive, more cost effective and safer to implement. As a remote process, there will be almost no impact on rail services, which is good for the travelling public. We are looking forward to delivering these benefits for Network Rail and its stakeholders."
Richard Leigh added: "Due to concerns, reported in the media, about UAV technology, Network Rail has introduced strict standards for their integration into maintenance programmes across all asset portfolios.
"As part of the tender process, we could demonstrate that UKDN Waterflow (LG)'s systems and procedures comply with these rigorous requirements for safety and data management processes, including GDPR."
Technical delivery of the contract will be managed by UKDN Waterflow (LG) with additional expertise brought in from the wider Lanes Group where necessary.
Andrew McQueen, Contractors Engineering Manager for UKDN Waterflow (LG), said: "UAV surveying is ideal for Network Rail which has to monitor and maintain assets across huge areas of land, much of it in remote, hard-to-reach locations.
"Our UAV survey teams will be working in conjunction with the Network Rail Air Operations team to ensure the safe delivery of the contract and to provide the full range of services required to meet client needs."