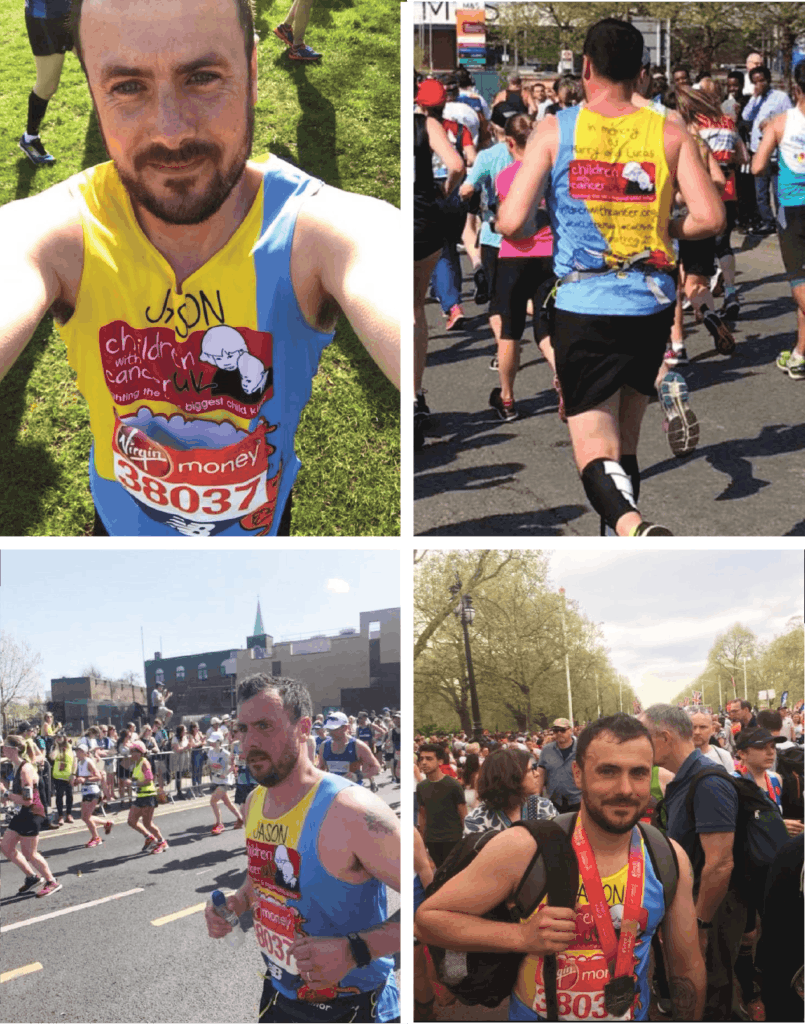 Lining supervisor Jason Wade has completed the hottest ever London Marathon in memory of the children of two friends who died from cancer.
Jason, who works at the UKDN Waterflow (LG) Ltd operational centre in Slough, Berkshire, has raised more than £2,300 for the Children With Cancer UK.
The charity supported two children – one born to his sister's best friend, the other to one of his best friends – who died aged three months and six years.
Jason did not get a place to run in the marathon, held on Sunday 22 April 2018, but his sister, Emma, unknown to him, was successful in getting him a place in support of Children With Cancer.
He said: "I was so pleased she did that for me. It was a privilege to run on behalf of Children With Cancer, and the thought of why I was running helped keep me going.
"I trained all winter through snow and rain, and then the race just had to be held on a boiling hot day in record temperatures! It was very hard, but I would run it again tomorrow if my legs would allow it."
Jason, aged 38, runs three to four times a week with his wife, Caroline – both are members of the Medway Runners running club – and sometimes with his three children, aged 17, six, and four.
Last year he completed an ultra marathon, over 40 miles, but this was his first run in the London Marathon, and he was hoping for a good time.
Like the rest of the 40,000 runners, however, he found the 24-degree centigrade heat, the highest temperature recorded during the event, very hard going.
Jason said: "I was alright up to 16 miles, then I got cramp in both calves, and had to stop start for last 10 miles.
But the support from the crowd gave me goose bumps, and my family and representatives from Children With Cancer were there to cheer on their sponsored runners.
Crossing the line was a very emotional moment." Jason's time was 4 hours 23 minutes, highly respectable given the conditions, and he has already entered his next marathon, in the New Forest in Hampshire, in the summer.
He will be hoping autumn comes early, bringing cooler temperatures, for that event.
Anyone wants to support Jason by making a donation in aid of Children with Cancer is invited to go to his fundraising page: https://UK.virginmoneygiving.com/jasonwade3