UKDN Waterflow's Ham sewer project was named best of the best at the United Kingdom Society for Trenchless Technology (UKSTT) 2014 awards. UKDN Waterflow scooped the 'Large Renovation' award for the unique strengthening project, which saw Crossrail Tunnel Boring Machines passing within 500mm of the Ham sewer, a major arterial pipe serving East London.
Providing water, wastewater, drainage and infrastructure solutions to homes and business throughout the country UKDN Waterflow was presented with the prestigious award for the HAM sewer project at the event held in Birmingham on 16th May 2014. The industry awards, now in their 20th year, were revealed by TV presenter and naturalist Chris Packham.
The UKSTT awards recognise the outstanding contributions made by organisations and individuals to the promotion, use and development of Trenchless Technology in the previous calendar year. Assessment of every submission from the long list of entrants  is undertaken by a panel of independent judges, carefully selected to be representative from a broad cross section of the relevant industries, who look to single out the most outstanding examples of excellence.
UKDN Waterflow's award for the Ham sewer project follows on from last year's success, when the company scooped the Small Renovation (for the Davies Street project), Large Renovation (for the Kensington Canal Sewer project) and Young Engineer of the Year (UKDN Waterflow's James Larkin) awards. UKDN Waterflow's rising star James Peden was runner up in the Young Engineer category this year.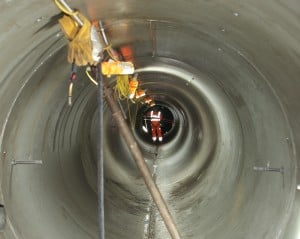 The complex 20-day project (with associated works spread over a number of months) saw a 50 metre continuous duplex stainless steel structural design lining jacked into place within the Ham sewer and precision welded to standards normally associated with very high pressure pipelines. UKDN Waterflow worked with the Dragados Sisk Joint Venture (DSJV) and Thames Water on behalf of Crossrail on this project, with engineers Fairhurst providing consultancy support.
During works the sewer was diverted using six 300mm pumps accommodating a peak sewer flow of 800 litres a second to the nearby Wick sewer. A new weir and penstock valve blocked the flow, and three generators producing a massive 1.2 megawatts of power kept the pumping going around the clock.
Each of the five tonne sections was jacked into place along guide rails before being meticulously welded together to standard EN1011 and tested using ultra sonic NDT to EN5817 category C to ensure a 100% pass rate. Crossrail's two 7.1 metre diameter Tunnel Boring Machines (TBMs) passed just 500mm from the sewer, in what is believed to be the closest pass by a large diameter TBM to a major sewer for this type of work.
Sean Masterson, Infrastructure Solutions Managing Director commented "The Large Renovation award for the Ham Sewer demonstrates the continued innovation, project management and capability within the UKDN Waterflow business, and I was delighted that project engineer James Peden was highlighted as a rising star in the Young Engineer category,  reaffirming our ongoing commitment to nurture new talent within the industry."
And Nick Harris, UKDN Waterflow's CEO summed up the success at the awards evening, "The award for the Ham sewer project demonstrates UKDN Waterflow's ability to provide best operational delivery, best service and best technical capability for water, wastewater, drainage and infrastructure projects across the whole country. It highlights the continued dedication and hard work of the talented teams and individuals that make up UKDN Waterflow."