UKDN Waterflow, one of the largest independent providers of specialist drainage solutions, has announced changes to its top team as part of plans to build and enhance its service delivery, and take the group to new markets and greater heights.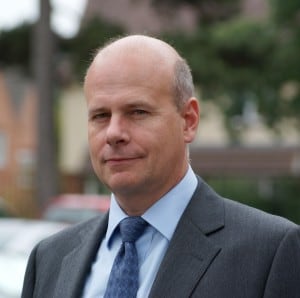 The company, which rebranded in 2012 from the UK Drainage Network to UKDN Waterflow after the acquisitions of the Waterflow and Drain Control businesses, has appointed Nick Harris as Chief Executive Officer.
Current Chief Executive Greg Beech and Chief Operating Officer Stuart Pace are moving to non-executive director roles and will continue to enthusiastically support the business at a strategic level. They will move away from day to day operations within the business.
A highly motivated Senior Executive with significant and relevant industry experience, Nick joins UKDN Waterflow from Thames Water, where he held board level operational positions.
Harris has more than 25 years' experience in the water services industry. At  Thames Water he spent over 10 years in various senior leadership roles including Operations Director. Most recently he was Asset Management Director with responsibility for strategy, planning and management  and overseeing 750 employees.
He has also held a number of senior positions in overseas markets, including spells as Operations Director at Essbio SA, following the Chilean water services provider's acquisition by Thames Water in 2001; Area Manager at Philippines-based Maynilad Water Inc and Technical Manager for Lyonnaise de Eaux in Gaza.
Shine, who has over 20 years' experience in board-level roles at major utilities suppliers and contractors, joined Thames Water as COO in 2007. There he was responsible for over 3,500 employees and the company's 5,000 contractors in delivering high quality water supply and sewage services to 20m commercial and consumer customers.
Prior to this he was Managing Director and Chief Executive at SGB UK, leading the construction site services provider's 3,000-strong team, and overseeing significant sales and profit growth over three years. Between 1992 and 2003 Shine held Managing Director and Operations Director roles at utilities management company 24seven's Electricity division (now part of EDF Energy), and mechanical and electrical contracting business London Electricity Contracting.
He is the current Chairman of Anesco, the UK's fastest growing renewable energy company, and Non-Executive Director and Senior Advisor to Veolia OL, a water industry asset owner, contractor and programme manager. He is also a Trustee of the Canals and Rivers Trust Board.
Nick Harris said: "In recent years UKDN Waterflow has quickly expanded to become a leading UK-wide provider of water services, with one the most comprehensive, reliable and advanced offerings in the marketplace. Working closely with Lyceum we will strive to continue this upward growth trajectory and further build on our reputation for the highest quality technical standards and delivery."
Steve Shine commented: "UKDN Waterflow's strategy of investing in its customer service and operational capacity, whilst making targeted acquisitions, has seen it emerge as a waste water and drainage services provider of national scale. I look forward to using my experience to support management in continuing to grow the business and develop its technical services."
As part of a planned succession, Greg Beech has stepped down as CEO of UKDN Waterflow to become a Non-Executive Director of the business. He added: "Nick and Steve's appointments represent the next step in the company's development. Their deep understanding of our sector will support this and I look forward to working closely with them to further refine and grow our proposition."
Together with the existing team the two will lead a transformation of the business to provide an enhanced service to existing clients, whilst building a platform for continued business growth. The group are backed by private equity firm Lyceum, who acquired a controlling stake in the business in 2010.
Simon Hitchcock, Partner at UKDN Waterflow's backers Lyceum and a UKDN Waterflow board member, concluded: "The company has undergone transformational change whilst maintaining its focus on customer service and the highest quality technical standards. Nick and Steve's combined expertise in this complex industry will be invaluable in helping the business achieve even greater market share across its core sectors."
Editors Notes
• UKDN Waterflow provides specialist drainage services to the insurance, commercial, household, industrial, transport, water and public sectors
• UKDN Waterflow's comprehensive portfolio of services covers planned maintenance and reactive call out, survey and report, and pipe rehabilitation with householders and businesses across the UK.
• Operating from 19 bases nationally with 600 directly employed staff UKDN Waterflow is unlike other national operators who are set up on a franchise or contractor basis
• Headquartered in the Midlands, UKDN Waterflow runs a 24/7/365 service from a state of the art UK-based call centre
• Private equity firm Lyceum Capital acquired a controlling stake in UKDN Waterflow in 2010 when the business had sales of just over £19 million, 11 depots and 270 employees. The company now has sales just under £50million
For further comment and imagery contact Gary Webb, Group Head of Marketing 07785 463895