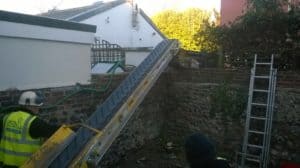 Drainage engineers from UKDN Waterflow have ended a family's eight years of terrible drain smells and sewage flooding thanks to a bit of neighbourly love and some conveyor belts.
They have completed a major drainage excavation at the home of Claire and Chris Hawes and their two children – but only because neighbours allowed 16 tonnes of spoil to be transported over their gardens.
The family's terraced house is hemmed in on all sides by traditional high brick and flint walls. The only way in to the back garden, where the drainage excavation needed to be carried out, is through the house.
So, to complete the drain repair work safely and efficiently, UKDN Waterflow set up four conveyor belts to move the excavated material across two other gardens to a motor mechanic garage forecourt where it could be tipped in a skip.
The solution meant the Hawes family could stay in their home while the UKDN Waterflow team carried out the month-long repair, ending years of bad smells, sewage seepage and health worries.
Marketing consultant Claire Hawes said: "The UKDN Waterflow drainage engineers were very thorough and methodical in assessing our problem, and worked very well with our insurance loss adjuster and with us to find the right solution.
"They were professional, friendly and efficient. And, unlike other drainage companies that had tried to solve the problem, they always did what they said they would do, and communicated brilliantly, which was very helpful."
The drainage difficulties at the Victorian terraced house in Lewes, East Sussex, were caused by a blockage in the foul drain pipe just as it left the property.  Sewage would regularly back up into the family home causing such bad smells that friends of the Hawes' children were put off going round to play.
Their insurance company commissioned two drainage specialists to try to solve the problem. Yet, despite repeated visits and one major excavation, the sewage spills and bad smells persisted, until UKDN Waterflow was called in.
Claire Hawes said: "Their approach was clearly very different. Instead of launching into the same actions that had failed before, they set about properly assessing the situation to arrive at a solution that would work."
The blockage was found to have been caused by collapsed Buchan trap, a device commonly fitted in Victorian properties to keep out vermin.
While a repair plan was considered, a pump and pipes were installed to overpump wastewater from the house to a manhole, also on the garage forecourt.
It was then agreed that the collapsed pipe had to be excavated and replaced.
First though, the garden walls had to be inspected by a structural engineer, and then strengthened, because of their proximity to the hole, which would be 1.5 metres wide and 3 metres deep.
The lack of access meant the UKDN operatives, Robert Rollinson and Alex Bull, had to excavate the hole by hand, overseen by Field Team Manager Toby Sorrell.
The garden was too small to store the spoil safely, which led to the installation of the conveyor belts.
UKDN Waterflow Technical Manager Peter Walker said: "Using conveyor belts was not a technique we had used before to solve such a difficult access problem, but it turned out to be very effective.
"Without them, the Hawes family would have had to have moved out of their home while we did the work, which would have been a major inconvenience for them, and a significant cost for their insurer. So there were benefits all round.
"We found two screw drivers and part of a rodding tool in the collapsed pipe, which may have been lost by a previous drainage company and which contributed to the ongoing blockage problems.
"Buchan traps are ineffective in modern homes, so we installed a new straight section of pipe. We also put in a full-sized manhole, to give excellent access if problems occur again. But we think that is unlikely to happen."
Claire Hawes says the whole family is delighted with UKDN Waterflow's work, especially the children, adding: "For the first time in eight years, we're confident the problem has been solved. So have our children's friends, because they're visiting us again."