What is a collapsed drain? 
A collapsed drain is when your pipe has become severely damaged and therefore collapsed or is beginning to cave-in. This can be caused by a number of factors, including freezing temperatures, frequent blockages, both exerting additional pressure on the structure, and generally poor maintenance.
Tree roots can also cause collapsed drain as they have the ability to grow into your drain pipes, causing them to crack and eventually collapse if left.
Once your drain has sustained some damage, you may find that your drainage system faces further blockages and flooding until the collapse has been resolved.
A collapsed drain can cause great inconvenience to your property. So, it's important to know what to look out for, the effects and how you can prevent it from occurring. If you suspect you have a collapsed drain, you should seek professional help to prevent any further damage.
How to identify a collapsed drain 
All properties are at risk of a collapsed drain. However, it is typically more common amongst older properties from general wear and tear over time. Sometimes if a drain is very old it can simply collapse due to repeat material fatigue. It's important to be aware of the five signs listed below as they could be an indication that your drain has collapsed and needs attention.
Smelling sewage
The smell of sewage in your home and in your garden could be an obvious sign of a collapsed drain. Smelling sewage is often a sign that one of your pipes have become blocked and started leaking.
Damp
If your property has a collapsed drain, the flow of water will be disrupted, which leads to water into the ground around the collapsed drain. If the collapsed drain is located beneath your property, you may be able to see signs of damp on your floors or walls.
Poor drainage
Wastewater draining slowly could be a sign of a blockage or you may have a collapsed drain. It's always best to get this checked to prevent any further damage.
Sewage backup
Similarly to poor drainage, sewage backup could be a sign that you have a blockage or a collapsed drain, especially if it happens regularly.
Subsidence
The release of water from a collapsed drain can cause the surrounding environment to subside or sink over time. If you have spotted signs of subsidence, this could be an obvious visual sign of a collapsed drain. It also suggests that the pipe has been damaged for a significant amount of time.
How to fix a collapsed drain pipe
Repairing a blocked, damaged or collapsed drain requires a professional. UKDN Waterflow uses 'no-dig' or trenchless technology to repair damaged drains. This requires little to no excavation and works equally well for drainage under roads, and rivers as well as residential, commercial or industrial properties.
To understand more about UKDN's drain repair process see the diagram below.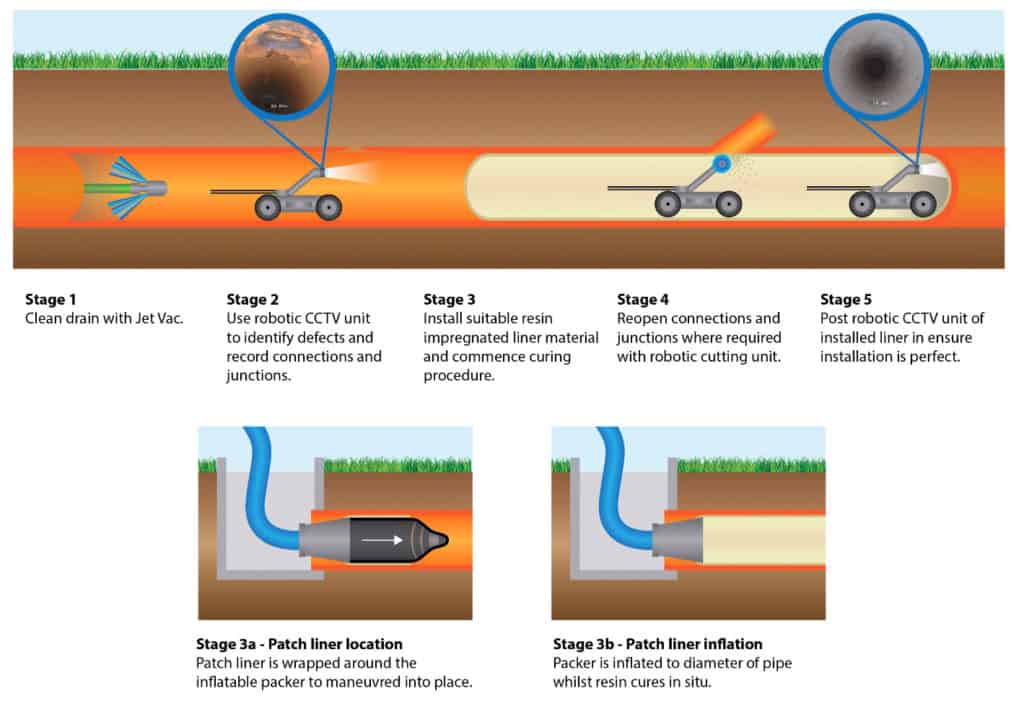 Collapsed drain repair cost?
To find out how much your drain will cost for a repair, contact us for a quote using the contact form on the left. Alternatively, you can call us on 0333 344 2937. In the meantime, you can read more about how we can help you maintain and manage your drains.