UKDN Waterflow has achieved CEMARS global greenhouse gas accreditation, one of only about 200 organisations globally to have committed to and achieved accreditation.
The CEMARS accreditation, which took six months to achieve, involved guidance from Achilles who provided the tools and confidence to measure UKDN Waterflow's greenhouse gas footprint in accordance with ISO14064 -1. The journey started with robust emissions measurement through to credible emissions reduction and several audits from Achilles to receive accreditation.
Achilles provides the world's leading greenhouse gas certification, CEMARS (Certified Emissions Measurement And Reduction Scheme). CEMARS is the first global greenhouse gas certification standard to be accredited and approved by the UK Environment Agency as a Carbon Trust Standard equivalent and an Early Action Metric in the CRC Energy Efficiency Scheme. The CRC Energy Efficiency Scheme (or CRC Scheme) is designed to improve energy efficiency and cut emissions in large public and private sector organisations. The CRC affects large public and private sector organisations across the UK, together responsible for around 10% of the UK's greenhouse gas emissions.
CEMARS is also a recognised verification standard under the Carbon Disclosure Project (CDP), which provides the only global system for companies to measure, disclose, manage and share vital environmental information. CDP works with market forces to motivate companies to disclose their impacts on the environment and natural resources and take action to reduce them.
CEMARS accreditation UKDN Waterflow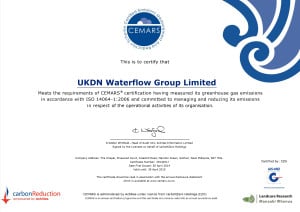 The key benefits of CEMARS to UKDN Waterflow are
• Robust measurement aligned with international practice;
• Verified reductions in carbon emissions to support sustainability claims;
• Internationally recognised certification in compliance with ISO 14064-1; and
• Preparation for current and future legislative carbon reporting requirements
James Taylor, UKDN Waterflow's Head of HSQE commented "UKDN Waterflow is fully committed to the environment and innovatively seeks to reduce carbon emissions in both the way we do things and the solutions we propose working in partnership with our clients. CEMARS is recognised worldwide and can be applied as the common standard across global operations ensuring consistency of measurement and reduction. The standard is applicable to organisations in all sectors of all sizes. Now accredited UKDN Waterflow is one of only about 200 organisations globally who will be able to demonstrate carbon leadership with CEMARS."