We recently ran a survey that revealed 85% of homeowners think that home insurance is too complicated, and we wouldn't be at all surprised if business owners feel the same about their insurance policies.
At UKDN Waterflow (LG) we want to help both homeowners and business owners alike better understand their insurance policies and make sure they are aware of how to avoid costly mistakes caused by a lack of understanding.
In this blog post, we will tell you how your commercial insurance policies could actually become invalidated due to a lack of attention to some of the most easily forgotten parts of the exterior of your commercial building. And with autumn and the conditions the season brings now with us, it's the perfect time to take action.
Gutters and rainwater downpipes
How often do you check the state of your gutters or downspouts at work? If you do so infrequently, or worse – never – then you could be in danger of your insurance policy being void. Chances are, maintenance of your gutters and downspouts needs to become a much bigger priority for your business than they currently are. Why? Because if these essential rainwater removal systems become blocked with leaves or other debris, then it can damage the fabric of the building or lead to damaging water ingress.
That being the case, you need to make sure you regularly – at least annually – inspect and clean your drainage system.
Drains
Drains are obviously an integral part of the drainage system, and can cause serious problems if they are not properly maintained – even if that's not quite as easy to check as your gutters and downspouts.
Again, in the autumn, leaves and other debris can become lodged in drains and cause blockages. However, if leaves block surface water drains, it could also lead to slip hazards which could also put your insurance policy at risk.
But it's not always leaves causing all the problems – a lot of damage and blockages within a business's drainage network is caused by items that are poured down the sink.
We talk about the 'dirty dozen' that should never be poured down the drain, and it's important that business owners know what they are so they don't encounter avoidable drainage problems that can lead to insurance headaches. The dirty dozen includes:
Food waste
Fat, oil and grease
Plastic bags
Nappies
Sanitary towels, including tampons, applicators and wrappers
Cotton buds
Condoms
Bandages and plasters
Baby wipes
Medicines, needles and syringes*
Cleaning wipes
Razor blades
*These should be taken to your local pharmacy or health authority for safe disposal
Make sure all employees are aware of the dangers of the dirty dozen and ensure you get professional help to regularly inspect the health of your drains.
Valley gutters
If you own or rent a warehouse, the chances are you will have valley gutters on the roof of the building. A valley gutter is the area where two roofs meet or where there is a change in the direction of the roof. Here is an example: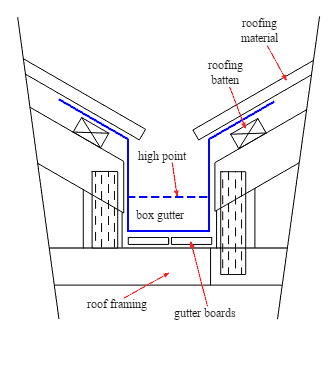 If a valley gutter becomes blocked with leaves and rain water isn't sufficiently drained from the gutters, then that water can become discharged into the walls, potentially leading to serious structural damage and an invalidated insurance policy.
Trees
This is a potential hurdle all year round, not just in the autumn, but did you know that having trees on your premises could also invalidate your insurance policies if you're not careful?
Root ingress – where roots damage underground drains – is covered by most building insurance policies. However, damage caused by trees could leave your policy void if the policy in question called for an annual arborist inspection that was ignored, and was followed by a tree causing structural damage by falling down.
Are you aware of the impact of any trees on your commercial property? If not, it's worth thinking about.