Project: Crossrail steel structural liner
Customer: Crossrail
Sector: Rail
Location: East London
The challenge
Crossrail is a 118-kilometre (73-mile) east-west railway line being built in London and the Home Counties of Berkshire, Buckinghamshire and Essex. One of scheme's 7.1-metre-diameter tunnel boring machines was due to come within 0.5m of the Ham sewer in East London, operated by Thames Water plc. We believed it to be the closest pass to a sewer by a large diameter boring machine ever recorded.
We were commissioned to work with construction, engineering and utility partners to ensure the sewer, one of the main wastewater arteries in London, was protected during the tunnelling, and remained stable once it was completed.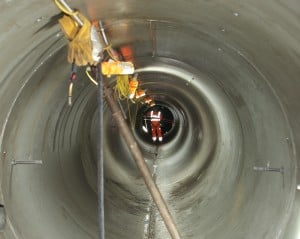 The solution
We designed a workable technical solution that was subject to a full independent Category 3 design check. It was then approved by Crossrail and Thames Water.
We undertook precision surveys of the tunnel using laser burst technology. Longitudinal deformations were modelled using 2D finite element analysis. The duplex stainless steel structural design was selected to reduce the stresses induced by future predicted deformations.
The customer
Crossrail Ltd is the company set up to build the new railway that will become known as the Elizabeth Line when it opens through central London in 2018.  It is a wholly-owned subsidiary of Transport for London (TfL), and is jointly sponsored by TfL and the Department for Transport. Once the railway is completed, it will be handed over to TfL and run as part of London's integrated transport network.
Implementation
We worked with the Dragados Sisk Joint Venture (DSJV) and Thames Water on the project, on behalf of Crossrail. Fairhurst provided consult engineering support.
The installation work was carried out over 20 days, with associated planning activity spread over a number of months. A 50-metre continuous duplex stainless steel structural liner was installed. It was welded in place to standards usually associated with very high pressure pipelines.
Six 300mm pumps were used to divert water in the sewer, which had a peak flow rate of 800 litres per second, to the nearby Wick sewer. A new weir and penstock valve was installed to block the flow. Three generators producing 1.2 MW of power to ensure the pumps were in continuous operation.
Temporary works
Two large shafts were dug, and a temporary protective metal and rubber support cage was created inside the sewer. The shafts supported the over-pumping pipes on one side, and an access shaft on the other. Each five tonne steel liner section was lowered to the installation site through this access shaft.
The sections were jacked into place along guide rails. A laser sighting system ensured they were positioned with an accuracy of +/- 1mm. They were then precision welded together to EN1011 standard, and ultrasonically tested and approved to EN5817 category C.
Finally, the ground affected by the temporary works was reinstated.
Safety and environment
Stakeholder and environmental management was a key issue.
People were living less than five metres away from the main shaft. The site was protected by Haki temporary shelters and Soundex acoustic curtains to suppress odours and noise. Upstream monitoring, traffic light evacuation procedures, and alarm warnings were established and tested many times during the project.
Results
The project was completed on time and on budget to the complete satisfaction of all stakeholders, including Crossrail and Thames Water.
Two Crossrail tunnel boring machines passed the reinforced section without incident.
All work was completed with no reportable incidents and a 100% safety record.