Rail drainage and transport infrastructure drainage
At UKDN Waterflow, we've made it our business to deliver sewerage and water infrastructure solutions in ways which minimise disruption to services affecting the travelling public.
By constantly sourcing and trialling new technologies and innovative methods, we ensure that we have the most productive, efficient and effective ways of managing transport projects — even highly regulated and time-sensitive ones. It's how we provide the best results for our clients whilst reducing downtime for users.
Our transport sector specialists work on:
Rail
Underground
Roads
Motorways
Highways
Tram systems
Airports
Individual engineering projects
Why choose UKDN Waterflow?
We hold relevant qualifications, where applicable, in each transport sector. As a long established rail drainage contractor, for instance, this includes RISQS accreditation and Audit. We are especially proud to have been awarded the coveted Network Rail Principal Contractor Licence (PCL) after 15 years as a tier one operator — a measure of our reputation and capability in rail drainage repairs.
Alongside official certification, we have long been acknowledged for knowledgable and capable managers. A structure with strong field and project management ensures that tasks are kept on track and on budget, every time.
On road projects, we comply fully with HADDMS (Highways Agency Drainage Data Management System) for surveying.
Choosing UKDN Waterflow to manage your drain and sewer infrastructure makes sense. When it comes to keeping systems running, we are past, present and future-masters of:
CCTV survey and inspection
Unblocking and cleaning
Management and maintenance
Renovation and repair of drains and sewers
Major and minor civil engineering works
Drainage asset mapping and data management
Non-drainage infrastructure works
Extra services
Water and wastewater infrastructure work on a network is often part of a bigger asset maintenance programme. With that in mind, we offer related services such as piling, steel and concrete work, the stabilisation of earthworks and embankments (including vegetation clearance and tree surgery), drainage replacement and renovation.
Award-winning standards
We work to the most stringent health and safety and regulatory codes and have awards to prove it. Exceptional operating standards mean we regularly deliver additional benefits and cost efficiencies above and beyond our clients' main objectives. This approach, along with our 'Project Server' system, means we monitor work activity, keep cost and resource targets to plan, and reach, or exceed, the highest quality standards.
Reactive and planned works
Experienced managers and ops teams deliver a mix of reactive and planned works, reactive only, or one off projects, always to optimum safety levels and always on time. Transparent pricing shows clearly the value for money service we provide.
Meet our UKDN Waterflow (LG) Ltd Health and Safety Superheroine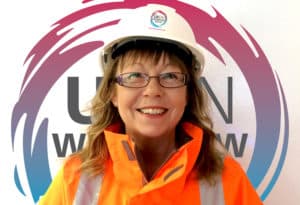 Name: Tonni Butson
Super powers: Listening
Tonni would most like to have the power to: The ability to able to read between the lines.
About Tonni: Not just highly qualified, Tonni is also more than a dab hand at the art of persuasion. As someone who has successfully introduced behavioural health and safety training techniques to support her colleagues, that should come as no surprise
The rail team at UKDN Waterflow (LG), based in Slough, Berkshire, works in one of the most safety-regulated industries on the planet. It has to be to protect both workers and the travelling public.
Tonni still has her work cut out encouraging best health and safety practice. She says a subtle approach to people management works best.
Where can you find Tonni: Slough, Berkshire
To find out more
Contact us on 0333 344 2937 to talk about our services in the transport sector, or complete the contact form.