Project: Culvert pipe jacking
Customer: Network Rail
Sector: Rail
Location: Filton, Bristol
The challenge
A six-feet wide and 90m-long section of culvert, made from corrugated steel, collapsed. It caused localised flooding that threatened the operations of the country's largest NHS blood bank. Network Rail put in emergency over-pumping, with a capacity of more than seven million litres per hour, to prevent further flooding. It then needed to repair the culvert.
Excavations up to 12m deep along 50m of the culvert created an open channel. However, a 40m upstream section was buried deep under a landfill site. We were commissioned to create an effective temporary repair along this section while plans to install a new culvert were drawn up.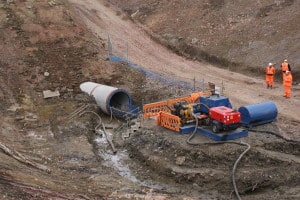 The solution
We recommended that pipe jacking should be deployed. Hydraulic rams would be used to force a steel shield slightly wider than the collapsed culvert along its line. This would allow the damaged sections to be removed, along with spoil. As this was done, new sections of 1800mm-diameter concrete piping could be installed behind the shield, creating a new, temporary culvert.
What is Pipe Jacking
The power of hydraulic jacks AKA Pipe Jacking – Pipe Jacking is an innovative technique for installing underground culverts, pipelines and ducts. UKDN Waterflow use powerful hydraulic jacks to push specially designed pipes through the ground behind a special sacrificial pipejacking shield.
Customer comment
"A poorly-installed metallic culvert was failing under excessive loading from the overburden, resulting in the annulus being pushed down, severely restricting flows and causing flooding to a nationally significant installation.
"Pending construction of a replacement culvert off-line, UKDN Waterflow (LG) were approached to come up with a scheme to sleeve the worst affected section of the culvert by driving a new pipe outside of the annulus of the existing culvert and break out the damaged lining to restore flows to original capacity.
"Expensive over-pumping arrangements had been in place for some time and the work undertaken by UKDN Waterflow (LG) would eliminate the need for this. The work was carried out with commendable efficiency and professionalism – on time and on budget.
"The new sections were driven in at a rate of three metres a day until completion, and we were able to remove the expensive pumping equipment, as planned. The site was left tidy and clear, leaving a very satisfactory impression of the professionalism and dedication of UKDN Waterflow (LG) and the staff employed on the site."
        – Phil Roderick: Asset Engineer Structures, Network Rail Avon
Implementation
A risk assessment and method statement was devised and submitted to Network Rail for approval.
A six-person UKDN Waterflow (LG) team worked on the pipe jacking project. This included a specialist confined space rescue team. A dry working area was created each morning using a stank wall to dam the live stream. This was released each evening. Flows were controlled by over-pumping.
The channel below the worksite was diverted to allow the construction of concrete thrust block to resist pipe jacking loads. Above ground, a total station supported by laser guidance within the tunnel was used to guide the pipe-jacking with pinpoint accuracy.
In all, 15 2.5m sections of concrete pipe were jacked into place.
The project team worked closely with South Gloucestershire Council, the local flood authority. Biodegradable hydraulic oil was used in all mechanical equipment on site.
Results
The pipe jacking and temporary culvert installation was completed on time and in budget within a 20-day programme.